Shane Merklein and Caroline Neal have been selected to the US Youth Soccer National Training Center (NTC) in Tampa Bay, Florida
January 2022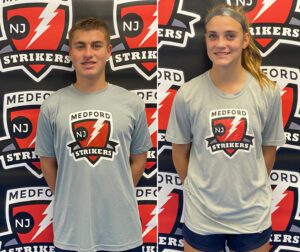 Medford Strikers standout players Shane Merklein and Caroline Neal havebeen selected to the US Youth Soccer National Training Center (NTC) in Tampa Bay, Florida in late January. This is an outstanding achievement for both players who are now preparing to showcase their talents in front of US Soccer National Team staff and scouts. "I was very excited when I found out that I was selected for the NTC. This is a huge accomplishment for me. This will continue to push me towards future goals," said Shane.
After being identified as top performers with the New Jersey Olympic Development Program, both players were then invited to the East Region ID Camp and Inter Regional ID Camps. Their strong performances at these ID camps resulted in an invitation to the National Training Center. The NTC is the final phase of USYS Olympic Development Program. The NTC will be attended by the top 23 players from each age group from around the country. "I am really looking forward to the high level of play. I can learn many new things about the game and myself as a player," said Caroline.
Shane Merklein has been a goalkeeper for the Medford Strikers Surge since U9. Often the first to arrive at training and the last to leave, Shane works tirelessly to develop his goalkeeper skills. "I have been preparing for this opportunity for years. I practice on my own, with Universal Soccer Academy in addition to playing with quality players at Medford Strikers", said Shane.
Caroline joined the Medford Strikers through our Junior Development Program when she was 7 years old. Since then, Caroline has been playing as a midfielder/forward for the Medford Strikers Impact in the EDP League. Caroline's dedication to improving has been evident over the years and this opportunity can only help in her development. "My goals for the NTC are to improve my speed of play and to learn new things. I also want to make my club and ODP coaches proud of me and hope the National ODP identify me," said Caroline!
The Medford Strikers Soccer Club is very proud of Caroline and Shane and wish them all the best at the NTC.